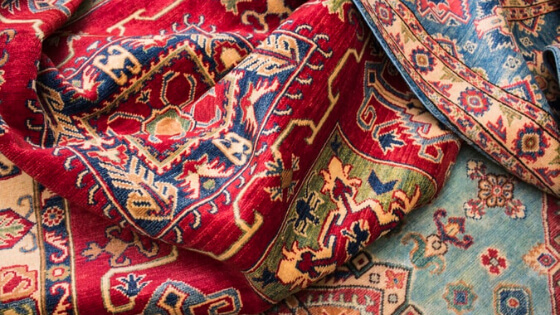 A wonderful way to add beauty to any home is with area rugs, runners, and kitchen rugs. Rugs add visual excitement to homes and can express your personal style and creativity. Explore the world of natural fiber rugs that have an earthy texture, are eco-friendly, and can stand up to high-traffic entryways to add a homey touch to your apartment.
Cotton Kitchen Rugs
Cotton rugs are a budget-friendly option over wool rugs, and they feel absolutely wonderful under your feet. Consider braided cotton rugs, a flat weave, or a cotton-blend for kitchen areas because these rugs go easily to the washer and should be hung dry. They are also very soft, especially when compared to sisal or jute rugs.
Sisal and Jute Area Runners
If you want a natural rug that is tough and rugged, consider sisal or jute natural fiber rugs. These rugs are coarser than wool or cotton, but they add an amazing, natural textured effect that can't be beaten. These rugs are best used for high-traffic areas like hallways or anywhere you would consider a runner. Avoid putting sisal or jute rugs in the kitchen because they don't absorb moisture well and it could be difficult removing food and beverage stains.
Seagrass Dining Area Rugs
Seagrass area rugs are becoming very popular if you want a natural fiber rug that can stand up to water spills and stains. The dense weave of these rugs is made from marine plants grown in Asia-Pacific waters. The reedy, seagrass makes for a strong yarn that is non-porous. Seagrass rugs will add an exquisite natural vibe to any interior decor.
Silk Living Room Area Rugs
If you desire a soft rug in vibrant colors, consider a Turkish silk area rug that is hand-tufted from the covering of a silkworm's cocoon. These exquisite have unparalleled beauty, but they do require special care to maintain their pristine appearance. Even though your silk rug will look delicate, the silk threads are actually very strong with a tensile strength that surpasses nylon.
If you're considering a new apartment home in Wilmington NC, The Quad offers virtual tours of our luxury, 1, 2, and 3 bedroom apartments that are located near shops, dining, and entertainment. We are just 4 miles away from Downtown Wilmington and Wrightsville Beach is less than 6 miles away.