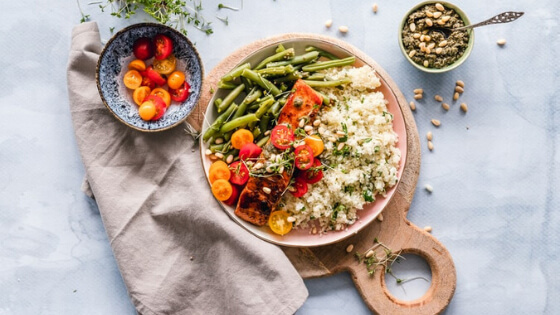 When America started looking more closely at what is a healthy and nutritious diet, we saw major areas that have changed long-standing eating habits. We now know that five smaller meals spaced over a 12-hour period with no food for 12 hours are better than three large meals and a snack before bed. The same has happened with our view of grains.
Bleached white flour wheat bread has been stripped of its natural fiber and nutrients, and the gluten in whole-grain wheat has been associated with many digestive system problems.
So, if you've transitioned to more quinoa in your diet, that is a good choice since it's gluten-free, high in fiber and protein, and contains sufficient amounts of all nine essential amino acids. Quinoa, while not technically a grain, is a pseudo-cereal cooked and eaten similar to other grains. If you love quinoa, here are three other grains to explore.
Other Healthy Grains to Explore
Amaranth
Amaranth is a versatile and nutritious group of grains that share an earthy and nutty flavor. This pseudo-grain has been a staple food in the Inca, Maya and Aztec civilizations. It can be toasted in a hot, dry skillet and added to other dishes or it can be boiled to stand as its own side dish. When simmered just right, enjoy amaranth as a breakfast cereal that has a sweet and porridge-like consistency.
Farro
If you're looking for an alternative to brown rice, then farro is the go-to grain that can be paired with grilled chicken or tossed into your roasted veggie side dishes. Farro is often mistaken for spelt, but this grain can be traced back to early Mesopotamia nearly 20,000 years ago. This protein and fiber-packed whole grain can be substituted in just about any recipe that calls for whole grains, but here is a delicious collection of Farro Recipes and Menu Ideas from BonAppetit.com.
Millet
Vegans are certainly familiar with millet, but this birdseed-looking grain feeds a third of the world, from Africa to Asia to Eastern Europe. This gluten-free grain has more than 6,000 varieties and is a familiar ingredient in international flatbreads, beer, and porridge. Many liken the flavor of millet to toasted corn, and it is one grain that will take on the flavor of whatever sauce or dressing that you pair it with. An easy way to use millet as a side dish is to toast it, then simmer it in vegetable broth for 20 minutes and top with fresh parsley or coriander.
When looking for your new apartment in Wilmington, NC, The Quad offers luxury, 1, 2, and 3 bedroom apartments that are located near all the best shops, dining, and entertainment. We are just four miles away from Downtown Wilmington and Wrightsville Beach is less than six miles away.