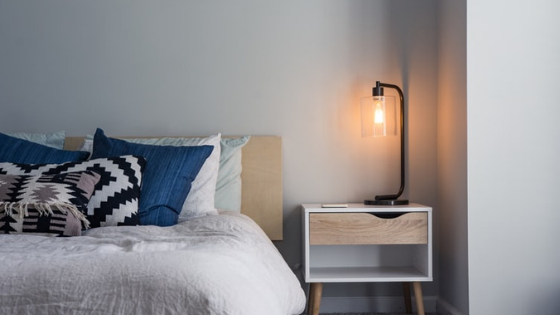 Some people spend time in their bedroom reading, working out, or watching TV. Others just use it primarily to sleep and get dressed. But no matter how you use it, it's an important part of your apartment. Whether your bedroom furnishings have seen better days or you're just ready for a change, giving your bedroom a facelift can have a big impact on your overall space. If you're not sure where to get started, we'll give you a few tips.
1. Start With Storage
Chances are, there's some sort of clutter in the bedroom that isn't necessarily serving the room. Clutter isn't just a nuisance. It can actually be a hazard. Bugs like to hide in it and people like to trip over it. To get some of that clutter out, you should start with storage bins, trash bins, or donation bags. This little step can end up making it easier to see where to take the direction of the room.
2. Give Your Mattress a Refresh
Despite the bed sheets and the comforter protecting your mattress from sweat and stains, it can still get pretty dirty. Hopefully, you've been flipping it once every six months or so, but if you haven't been, now is the time. To take it a step further, try mixing one part water, one part fabric softener, and one part baking soda in a spray bottle. Spritz it all over the mattress and it should take out any of the odors that have built up over the winter and spring.
3. Add a Rug
A colorful rug in a bedroom is a great way to freshen up its palette. This addition can not only make it more pleasant to walk around the bedroom, but it can also inspire your next purchase. So maybe now it's clear what color comforter to get or which decorations will look best when set against the backdrop of the floor.
Our apartments in Wilmington, NC deserve a little love and attention every now and again. If you're looking for a facility that practices this motto, give Quad a call today. Our spacious apartments, manicured grounds, and modern facilities make it easy for our community members to relax at home.